This event has been postponed. More information soon!
We're having a party, July 11th, 5pm at the Dow Art Gallery in St. Paul.
Dow Art Gallery and Picture Framing: 2242 University Ave W, St Paul, MN 55114
We're very excited to announce the creation of Minnesota Exposure – Education! We're so excited, we're inviting all of you to a special party at the Dow Art Gallery! The party will be part fundraiser, part meet & greet, and will feature a print photo contest! Come out and meet the team behind Minnesota Exposure, the crew at the Dow Art Gallery and Picture Framing, and meet the fantastic photographers  whose work you've grown to enjoy in our competitions!
Fundraiser
Over the course of the evening, we're hoping to raise $2,000 for items required to furnish a classroom: tables, chairs, and a projector screen. Our goal to create more opportunities for photographers extends to helping them learn in a friendly, supportive environment, that mirrors our online competitions. The dynamic duo behind Minnesota Exposure – Education are Don Tredinnick and Peter Berman, and they are making their years of experience and supreme expertise accessible to everyone through workshops, seminars, and outdoor events.
We will have a silent auction for some products from Think Tank and artwork for sale.
Photo competition – Pets
Now is your chance to get in on our next big adventure!  We're hosting another paid photo competition with the category of Pets!  Yes, we love our pets, too!  Your entry into this competition nets you a chance to win a cash prize and help us out.  Proceeds will go to furnishing a classroom at the Dow Art Gallery in St. Paul.  The Dow Art Gallery and Picture Framing is offering significant discounts for framing for contest entrants.  Contact Khanh at (612) 607-9203 for more information.
Click below to purchase your entry: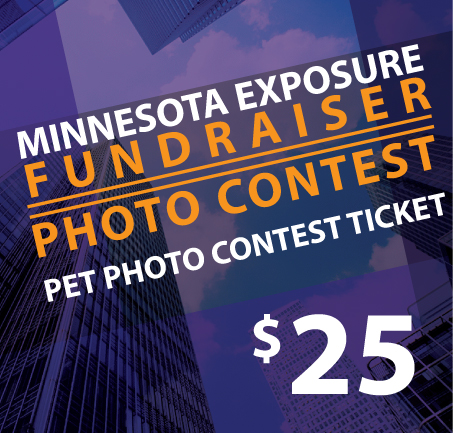 Prizes:
Grand Prizes:
First Place – $250
Second Place – $150
Third Place – $50
People's Choice – $50
In the event of low turnout, competition payouts will be adjusted accordingly.
Rules
You may enter only a single print.  

Photos submitted outside of the entry form will not be included.
Photographs ARE NOT LIMITED to Minnesota.
Canvas or framed prints MUST NOT exceed 16×24 inches.
You are required to obtain your own print and frame.  We have sponsors that print and frame:
Schedule
June 24 – Tickets go on sale
July 6th – Prints are due at the Dow Gallery
July 11th – Fundraiser party and final judging 
Get Involved
As part of the community, we need your help in a number of ways.
Art Donations – Show your support to our fundraiser through your work. We would appreciate art donations to the silent auction. You can drop off finished art donations at the Dow Art Gallery located at 2242 University Ave W, St Paul, MN 55114.
the week before the event. We greatly appreciate your willingness to support our classroom.
Spread the word! – We want this to be huge! Sure, this is a fundraiser, but it's also a time to check out the artists in the gallery! Share this to anyone you know who might enjoy visiting the gallery and checking the place out!
Documentation – Bring your camera to the event! Help us document the evenings festivities.
We look forward to seeing you at the Dow Art Gallery and Picture Framing on July 11th!
Comments
comments